The new LinkedIn desktop experience – the highs and lows

My LinkedIn account has just been switched over to the new desktop experience.  I'd heard LinkedIn was in the process of gradually moving members to the new interface and now it was my turn. The new-look is very different and I've subsequently been navigating my way to see what new functionality there is, where old functionality has moved to and what functionality no longer exists.
It's always time-consuming to get up to speed with a new-look interface and so here's an overview of what I've found.  Hopefully it'll help to speed up your learning curve when you receive the new version.
I should just add that I'm on the LinkedIn Premium membership tier and, as yet, haven't found any contacts on the free subscription who have been moved over to the new version.  In time it will be good to learn how the new-look functionality differs and please let me know if this applies to you.
What changes to expect with the new LinkedIn desktop view
1. Inability to adjust your now very busy home feed
Previously, you had two choices of how to view your desktop home feed – 1) by most recent updates and 2) by top (most popular) updates.  Unfortunately the most recent option has gone.  This is quite frustrating as it was helpful to spot and respond quickly to an update.
In fact you don't really have any control over what to see in the home feed.  You can hide posts or unfollow channels or connections' news, but the home feed seems to be even more dominated by sponsored posts and articles which LinkedIn thinks are relevant to your industry.
It also seems the homefeed is now only going to show articles, shared links and 'likes' from your connections.  Job moves/promotions and new connections made amongst your network are no longer reported there.  (See next point about the notifications icon). So if you want to quickly get the some of the latest news on a specific connection just go straight to their profile page.
2. The Catch Up Box has gone – go to notifications instead
This used to be in the top right-hand corner and was a summary of latest notifications about your connections.  Granted, it was a pain in the way it mainly covered work anniversaries, but a nudge on job moves and promotions amongst your network provided useful insight and saved you having to scroll down a busy home feed.  You now need to go to the notifications icon in the top menu for this insight.

The Notifications page still alerts you to work anniversaries and birthday reminders, but it also flags:
your connections' new jobs,
when one of your connections is mentioned in the news,
if they've endorsed your skills and
who's looked at your profile.
In the new desktop look I still haven't managed to find notifications of when my connections forge new ones, so I am guessing that functionality may have been removed.   This used to be good for spotting when different connections connected, or if connections were forging links with people you were keen to include in your network.
3. Searching

The whole approach to searching on the new desktop experience has now changed.  You still get the search field at the top but there's no need to select whether you're searching for a company, group, person etc.  As you type in text LinkedIn will bring up different options.  These options cover people, companies, groups and jobs relating to that text.
Articles/posts no longer come up as a searchable option.  Also the Advance search option has disappeared.  This enabled you to set filters like tiers of connections (1st, 2nd or 3rd), location and industry when you created your search.  Now you have to do the search and then filter your results with the options LinkedIn gives you.
4. Pulse articles
With LinkedIn adding in more articles in your home feed that it thinks relate to your industry (whether you want them or not) it is getting harder to see those in the interest areas you specified in its publishing site Pulse.  Interestingly, when I typed in www.linkedin.com/pulse I repeatedly got brought back to my home feed. This meant I could no longer go to the traditional Pulse page to just see the key headlines in my chosen topics.
I have subsequently found this link – https://www.linkedin.com/pulse/discover  – via a help page which means you can still select those topics, influencers, publishers etc you want to follow / unfollow . Sadly I couldn't find an icon or link from the main homepage to get to it, so I'll have to bookmark that url.
5. New look profile pages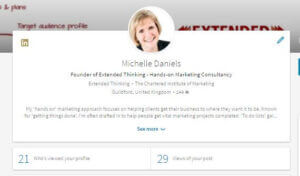 There are quite a few changes to the profile page set up to get used to. Here are some key ones:
The summary – A person's summary on their profile page has, on an initial glance, been reduced to 2 lines and you have to click to read more. It's therefore important that the first two lines of your summary are really impactful to appeal to your busy 'skim-reading' contact. Make sure the key information you want visible is put in these 2 lines.
Endorsements and skills – Now only the top (most popular) 3 show and again you have to click to read more. This is fine if all your connections echo what you think your specialisms are.  If not, you may need to reach out to them and politely ask for them to vote for the 3 which you really want to be known for.
Contact information – On a connection's profile page this has moved to the top right, which is more accessible.
Recent activity – A connection's recent activity is also a lot more visible now on their profile page (before it was via a not too obvious drop down menu). Saying that, Recent activity only shows articles they've published, articles liked and comments made on posts.  It doesn't seem to alert you to new connections forged or new roles and promotions.
Background images and photos – These now have different dimensions in the format so you may need to upload a new background image and photo to look your best.
Tagging functionality is no more – This had been more of a sorting tool and you couldn't do a lot more with it. You can now search for a phrase amongst connections.  Via the Your Network icon in LinkedIn's top menu and the Your connections – see all link on the page it brings up, you can run some searches on similarities in your connections.  For example, typing in Marketing in the Search your connections box at the top of the page brings up those connections with marketing in their job title or a company name.
The Relationship section on profiles is no more. This allowed you to add Reminders, Notes and Tags to individual connections. If you had notes, tags and reminders you have until the end of March 2017 to export them
Recommendations – these no longer appear against the relevant role and instead feature further down the profile page in a dedicated area. They don't however signpost which role they relate to unless it's mentioned in the recommendation itself.
Media – you used to be able to upload presentations and other media you'd produced onto your profile, but this doesn't seem to be an option anymore and previous media you uploaded seems to have disappeared.
6. The Interests drop-down menu has gone
This used to be a quick route through to overview pages showing the Companies, Groups, Pulse articles, Slide Share and Learning elements you were following or interested in. Now Groups and Slide Share are accessed via the More icon to the right of the top navigation. Learning has its own icon next to it.
With the Companies you follow, their updates appear in your home page along with everything else there.  You can adjust which companies you follow or unfollow by going to the specific company page via the main search field.
Summary
The new-look LinkedIn desktop on first glance does come across cleaner and crisper.  Like any change, it needs time to get used to and I do worry if busy professionals will have the time.  From a marketing, sales and networking perspective I'm not so sure if all the changes make sense.
Many previously simple searches now require several steps to get to the information you want.  Also, the amount of content LinkedIn is pushing through on the home feed means it's harder to spot your connections' activities as they happen.  And that, from a networking perspective and relationship-building perspective, used to be a major benefit of using the platform.
I do hope some of the functionality that has been ditched returns in the future.  In the past, LinkedIn has been known to do U-turns and brought features back.  We may have to increase our subscription levels though to access them. Perhaps the LinkedIn navigator product is where we'll all find the information we now miss.
This overview hasn't covered every change in the new desktop experience, but I hope it signposts some of the key ones and helps you – when your turn comes – to navigate round the platform more easily.  Also, I'd be delighted to hear if any functionality, which I've mentioned has disappeared, has popped up elsewhere in the platform.  I had a good search, but it may have been hiding too well!