Strategies for managing and developing client relationships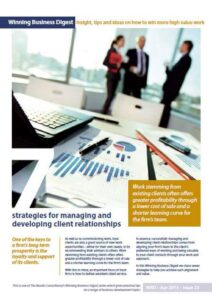 We were really delighted to co-author The Results Consultancy's latest Winning Business Digest.  Focusing on ways to protect and also develop client relationships, it shares practical tips on how to align your business approach to add value to a client (and secure their long-term loyalty).
The Digest tackles key client relationship management issues such as:
Which client contacts to focus on
What knowledge gaps you need to fill, and how to fill them
How to organise your team to be most effective
When and how to communicate with your client
What  added value elements will resonate most with them
If you would like to receive a complimentary copy of the Digest – 7 strategies for managing and developing client relationships, please contact us for a copy.