How to sail, not sink with B2B social media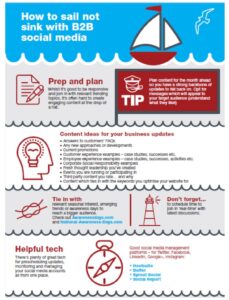 The power of social media in providing a highly effective B2B marketing channel is rarely undisputed.  Social Media is without a doubt highly beneficial for all companies irrespective of their size.  It's even allowing some companies to punch way above their weight in the visibility and customer generation stakes.
But the question raised more often than not is how can small and medium-sized businesses do it well? When time is short and most energy is consumed by running the business – how do you make Social Media work for you?
Our latest infographic has plenty of tips to keep your head above water. Here is some further insight to help you along the way.
Preparation and planning
The good news is, if you follow some key pointers and spend a little time on the planning side of things, your social media efforts can be highly successful. And you won't necessarily need to have a dedicated team running this for you.
The major key to success is to really think about your target B2B audience. Put yourself in their shoes and think about…
The nuances of their sector?
What challenges their business typically has?
Where geographically are they based (territory may be important)?
Who's the typical decision-maker you want to engage?
What interests them?
What solutions are they looking for?
What else may be on their agenda?
What knowledge gaps may they be looking to fill?
What social media posts do they engage with?
When you have a clear picture of your target B2B audience on social media, creating relevant and interesting content becomes a whole lot easier.  Remember – for people to want to like or share content (which is important in ensuring it reaches the widest audience) or respond to you, it needs to appeal to them and engage their interest.
Be 'regularly' visible
As 'live' an environment as Social Media is, planning what content you'll share and when is key.  This will ensure you have a good balance in the content you are sharing. Put time aside once a month to plan a back-bone of content. Even if you don't get any more time to do ad-hoc posts you know your pages and followers will be seeing regular updates from you.
Check out other ideas in our infographic for creating engaging and regular social media updates.
Pre-schedule
By using some of the great free scheduling tools available you can manage your social media time really efficiently.  Don't forget to have notification alerts switched on in your social media accounts so you can respond to follower and customer messages and comments in real time.  Interaction is vital, as our infographic highlights. People do expect quick response times.
Analyse
Finally, once you've taken some time to implement these ideas, how do you know they're working? Analysing the impact of your social media activity is easier than ever as the various channels provide helpful reporting and insights.
Do look at these and learn from them.  Adapt your content and posting scheduling etc accordingly to build greater engagement. In the infographic, we've included helpful measures you might want to use to evaluate your return on investment.
Need a hand?
And, if you'd like more advice and support in setting up a social media strategy or generating a higher return on your current social media investment contact us or tel 01483 429111.