Customer objections in the buying process and how to overcome them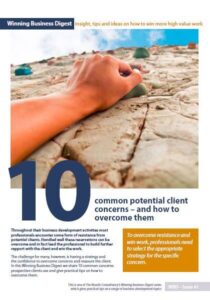 We were delighted to co-author The Results Consultancy's latest Winning Business Digest – 10 common potential customer/client concerns, and how to overcome them.
The Digest highlights the frequently raised concerns and objections which potential customers pose in the prospecting and sales process.
Whilst some resistance is to be expected in business development and selling, when handled well, reservations and concerns can be overcome and lead sales people to build further rapport and trust with the customer… and win the work.
The Digest gives practical strategies and approaches to use for each objection and explains how to go on to build greater engagement and trust with the customer/client.
If you would like a complimentary copy of the Digest, please contact us.