Creating your 2015 business development plan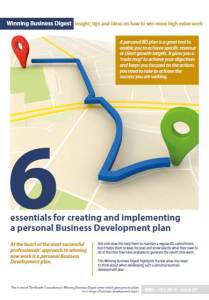 We were delighted to co-write 6 essentials for creating and implementing a personal business development plan – a Winning Business Digest produced recently by The Results Consultancy.
The Digest explains key fundamental ingredients if you want to devise a plan which brings you the results you want and which has a realistic chance of being implemented.
It covers aspects such as identifying where new work is likely to come from, things to find out before you begin, setting objectives which get achieved and much more.
If you are looking ahead and want to create a practical road-map for your BD in 2015, contact us for a free copy of the Digest.  It has plenty of tips and advice to help you create the right plan for you and your business.
And if you need a helping hand with your marketing strategy or plans, do let us know.