Business planning essentials for an uncertain 2017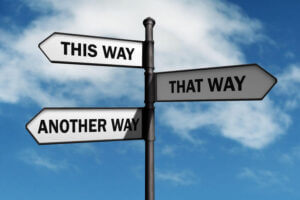 It's been an incredible year hasn't it?  A true example of watching history unfold daily before your eyes – and with so many historic events at that.
With the sheer volume of political and economic positions being thrown up in the air, it's still seems to be taking a while for the dust to settle, and even longer before we know what that pattern of settled dust means for the economy and our businesses.
Over the past months, most commentators have emphasised that businesses don't like uncertainty. They don't do well with uncertainty and uncertainty should be avoided at all costs.  But if uncertainty is the norm (and it looks like it will be for a long time), it's better to start finding an approach which works with it.
The current choices
Businesses of all shapes and sizes are facing a number of choices and the ones they take now will have a bearing on how they fare in 2017. Typically these choices fall into 3 camps:
The Keep Calm and Carry on camp – trying to carry on as normal despite unprecedented change
The Wait and See camp – pausing everything to wait for the picture to become clearer
The Be Prepared camp – devising different strategies to cope with different scenarios and adapting as quickly as possible to changing market conditions
When you look back at previous economic downturns and factor in the pace at which change occurs now, the businesses in the third camp are more likely to emerge from the uncertainty as more resilient and robust enterprises than their rivals.  Their agility and flexibility will enable them to satisfy their customers' changing needs and cope with different trading pressures more easily.
Business and marketing planning essentials
So, whilst it might be tempting to try and ignore the economic turmoil or wait till a clearer picture emerges (if indeed it does), a better strategy would be to strengthen and bolster up your business for the unchartered territory ahead.
For those who question what business and marketing planning they can actually do given the uncertainty ahead, here's some food for thought:
Plan for the 'what if'
Consider different scenarios which could have an impact on your business and use the time now to check your business processes, teams, resources and finances can cope.  Think broadly about different events that could have an adverse effect and devise a plan, which can quickly be rolled out to save you valuable time and ensure your business effectiveness continues.
Typical scenarios to work through here include the loss of a major customer (or project), the implication of a rise in costs for the resources your business needs due to sterling's price, staff leaving etc.  Of course there will be a host of other 'what ifs' unique to your business. Use the time now to test how strong your business is to cope with these and, where you do foresee a weak spot, start work on addressing it.
Strengthen your foundations
When navigating unchartered territories, it's good to have a strong and decluttered vessel.  Make sure you have everything in place you need and reduce any current wastage, clutter or 'nice to have but not really essential' plans and commitments.  Strengthen your financial position if possible and ensure (if you invoice) you keep on top of the credit terms you give to customers. Find affordable ways to make it easier for customers to pay you and keep an eye out for competitors offering flash discounts or more favourable payment terms.
If you employ people, they will be looking for reassurance about their jobs and its key to keep communication open as much as possible.  Of course you won't know all the answers but, by explaining the current position of your company, what measures you are taking and then keeping them informed as time goes by, they are less likely to become demotivated, unproductive or jump ship to one of your competitors.
Wherever possible, avoid rumourville becoming rife – it never does a business any good. Instead try and encourage two-way communication as employees are often a great source of ideas on how to improve things, spot and maximise on opportunities.
Get closer to your customers
It will be very important in 2017 that your business understands how the changing economic and political conditions are impacting on its market.  Monitor changes in buyer behaviour in your sales process and check your marketing analytics to see if visitor, search, engagement and enquiry activity is changing – not just in terms of numbers but in what people are looking for.  Above all, talk to your customers and find out what they are experiencing and what you can do to help.
In offering help, consider:
ungrouping or repackaging different product or service offerings to meet changing needs
reviewing your pricing terms if cash-flow is tight for them (can payments be spread?)
exploring if there is other insight, resources and experience in your team which customers would benefit from in the current climate
assessing if there is a current customer need your business doesn't have an offering for – if so, can you innovate or collaborate to address this?
The closer you can be and the more supportive you are to your customers, the more likely they'll be to stick with you – even when times get tougher.
Keep close to your suppliers and advocates
Your business isn't a self-sufficient island and, to do what you do, it's likely you need to rely on other businesses.  A good supplier, referrer or advocate will greatly contribute to the efficiency and effectiveness of your business and a bad one can have catastrophic consequences to your operations and reputation.  So as with your customers, ensure an open dialogue exists between you and your support network. Find out how the market changes, the impact of sterling's value, potential EU free trade and free movement renegotiations etc are impacting on them. What in turn could be the effect for you? Work collaboratively to try and find positive routes together through the uncertainty.
Review and adapt your business and marketing plans
Unless you were really astute and forecast the aftermath of BREXIT (well done if you did), it's likely that the business and marketing plans you were following pre-June 2016 will now need reviewing and reworking. Realistically, you may find it will be difficult to put in place fixed plans for the next 12 months as it's not clear how buyer behaviour and market conditions will change.
So review and adjust your objectives based on the scenario planning you've undertaken.  Map out activities for two-month chunks but monitor and review changing conditions at the end of each month to see if those activities are still the best course of action.
Also, take an objective view every quarter to ensure nothing's been missed and you can get a clear sense of trends as they emerge and any seasonal impact. Agile and flexible plans will be essential in the coming year (possibly years).  In terms of the marketing plan, so too will careful monitoring of your company's:
Customer buyer behaviour patterns and the marketing process
Digital marketing analytics – not just volumes, but what people engage with and how (be prepared that your keywords and your core messages may need to adapt as conditions change)
Assessment of your customers' market changes if you are in B2B
Competitors activities
Customers' changing needs
Ensure your team has the information it needs – ideally in an easy to reach, easy to digest format that can facilitate prompt and informed decision-making.  And decision-making is key here.  Be prepared that you will need to be quicker in reacting to the insight you gain if you want the business to remain strong and resilient as change emerges.
Summary
Whilst change and uncertainty is definitely here to stay in the UK economy, that doesn't mean it automatically is a bad thing for your business.  History has plenty of examples of businesses becoming stronger, more innovative and highly successful in the face of adversity.
Those that did perform well didn't, however, rest on their laurels or wait to see what was round the corner.  They took a proactive stance, strengthened their position and thought creatively about how to make the most of the current situation.  Agility, flexibility and perseverance helped many foster the resilience and success we recognise them for today.
So use the remaining weeks of 2016 to put your business on a firmer footing and ensure it's ready to take whatever the 2017 post-BREXIT landscape throws at it.