Be your own brand – published in PM Magazine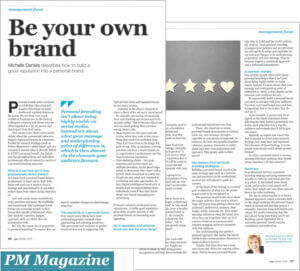 We are delighted that our article – Be your own brand  – has just been published in PM Magazine
Over recent years there's been much debate about the commercial value and impact of personal brands in a business.
Fuelled by research findings (such as Weber Shandwick's which found 44% of a company's market value is directly linked to a CEO's personal brand), the discussion has prompted firms and individual professionals alike to assess the commercial merits of a personal branding approach.
Our article explains what personal branding means and how to build one from a good reputation.  In the crowded professional services, it can be a highly effective strategy to help differentiate one adviser over another.
And thank you to Nadia and the PM Magazine team for commissioning the piece.  PM Magazine is the members' publication of PM Forum – a fantastic organisation which shares best practice, insight and inspiration for marketers in the professions (law, accounting, property etc).
For more help in formulating your personal branding strategy, please contact us on t 01483 429111 or email helpinghand@extendedthinking.com