10 marketing strategies to compete effectively against a big rival
It's a rare thing to operate in a market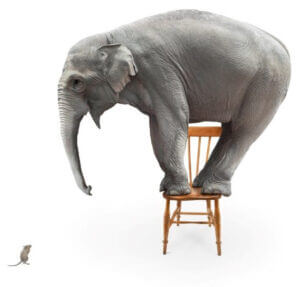 without competitors and often businesses face a diverse range of competitive offerings and approaches.  Typically that will include large rivals with sizeable budgets, big sales forces and marketing teams, well-established infrastructures and plentiful resources.
But, from the customer's perspective, big doesn't always mean best and if you find yourself in a market where you are very much a minute David to a sizeable Goliath, there are some simple marketing strategies you can employ to compete effectively and successfully.
1. Beat them to it
– your leaner, smaller team can make decisions faster and ensure you are first to the market with a particular offer, product or service package in response to a change in customer tastes, public mood or a seasonal blip. For example, if the weather turns unexpectedly cold, a smaller clothing retailer can be quicker to promote a warm woollies range than a larger chain stuck into their traditional buying cycle.
2. Get closer to your customer
– again the smallness of your team and shorter internal communication channels can make you faster at capturing customer insight and feedback. This is powerful intelligence that the large corporates can take a while to collate and even longer to respond to.  Use your interactions with customers to ask their opinions and get feedback on their needs. How are your products/services satisfying these?  Ensure the front-line staff build this into their approach and share what nuggets of insight they've gained with the rest of the team.  You can always bring together a focus group of customers to gain other views on a particular idea that has emerged.
3. Wrap a more positive and personal experience around your products/services
– your size means more of your team can develop a really good knowledge of your customers.  As a result you will have greater flexibility to create a more personal experience.  As choice for the customer intensifies and many products/services display similar features and benefits, a more personal and positive experience from a provider can be a real selling point.  Ensure you're the competitor who responds quickly to customers and who keeps in touch with them during the sales process.  Assess how you deliver your product/service to them and fine-tune any elements which cause unnecessary delays or problems.
4. Create a community of customers
– there will be potential customers who match the profile of your current customer fans so focus on winning more of the same. The trick is to understand where groups or pockets of them congregate and create relevant marketing activities to engage them and build a community around your product or service.  Going for groups (rather than one individual at a time) can be a more efficient and effective use of your finite resources. For example, an iced coffee producer recognised the rise in popularity of cold caffeine drinks amongst cycling fanatics.  They began forging links with their local cycling clubs to sponsor cycle races, club events and do tastings. Backed up by cycling-themed facebook activity, they soon built a big following and sales of their product rose.
5. Make the most of social media (if your customers participate in it)
– this is how you can compete effectively with those big competitor advertising budgets. Be visible on the social media channels your customers favour (ask them if you don't know) and create engaging pages with regular fresh content.  This content shouldn't just be about offers and promotions, try and support that sense of community by talking about and sharing tips around your product/service that will be relevant.  Always respond promptly to any comments you get back from customers to show you're listening and responsive.
6. Create an easy-to-navigate website
– sometimes large competitors have very complex websites where it takes an age to find what you're looking for. Gain an edge over them by creating simple signposting and making information more readily available. Ensure your site loads quickly and is mobile-browsing friendly. Invest in finding out the keywords and phrases customers enter into the likes of Google, which point to your services/ products and build content around these to improve your rankings.
7. Ride on other high profile events and campaigns
– every week we hear about it being the National Awareness or Celebration Day/Week for a particular issue. Some get more publicity than others but, if your product/service/ approach links nicely to a particular cause, then build some focused marketing activity to support it.  Add to the noise on social media and online to help you capitalise promotionally on interest in a wider market.  See http://www.awarenessdays.co.uk/ and  national-awareness-days.com/  for more information.
8. Encourage reviews
– assessing reviews and recommendations is now a big part of the buying process and most customers will want to check this out before committing to buy. Encourage your happy customers to leave reviews, particularly on Google, Trust Pilot and any others specialising in your sector. Always thank those who invest time out to do this. Feature testimonials and quotes on your website but bear in mind the larger independent site reviews will attract more interest.
9. Collaborate
– sometimes you just can't offer all the service add-ons, features, bells and whistles that your larger competitor does. If this is putting you at a real disadvantage then consider collaborating with another small business who can bring in the expertise/offering you lack.
10. Investigate
– wherever possible keep in-the-know about your larger competitors' approaches, particularly their pricing model and offer components. Considering asking a friend to do a mystery shop and then talk you through the larger competitor's approach.  There may be some quick and easy wins you can build into your own approach.
Summary
Don't be put off if you face a sizeable competitor in your market.  The trick is to find areas to compete where their size and perhaps lengthy and protracted internal communication channels slow them down.  Remember your size can make you more agile, more flexible and quicker to respond.
Over the last decade technological developments have enabled smaller businesses to compete on a global stage. Cloud-based systems, social media, web browsing sophistication have meant the cost of reaching bigger audiences has come down considerably.  The key to success is to be very clear about your customers, their needs and how you can best delight them. If this is your focus, and your processes, systems, staff and marketing are tuned into this 100%, you will go far.