Working the room effectively at networking events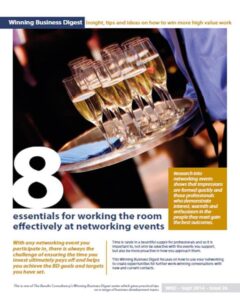 It was great to recently co-author another Winning Business Digest with The Results Consultancy.
This Digest focuses on how to make the most of networking events, which form an essential tool in many business people's business development (BD) and marketing kit bag.
It shares 8 simple techniques to help ensure the time you invest in networking events ultimately pays off by assisting you in achieving the BD goals and targets you have set.
If you would like a copy of this Winning Business Digest, please contact us.