How to make the most of business awards in your marketing part 2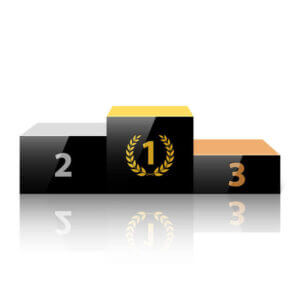 In our last article – How to make the most of business awards in your marketing part 1 – we examined what you need to consider before deciding whether to go for a specific award. We also talked about how to create an impressive submission. In this piece we now turn to how you can make the most of the numerous marketing opportunities that surround participating in a business awards event.
Making the most of a business award's marketing opportunities
With each business award there is always a natural build up, and you can capitalise on the anticipation and 'noise' surrounding the event in your marketing. Use social media, blog posts and customer communications to be visible and vocal in the building anticipation surrounding the event.
In terms of your communication content, consider these successful approaches:
If you are part of a short-list which has been published, see who you're up against. Create messages, examples and facts which demonstrate how you are different (and better) than your rivals
Plan a series of content the themes of which stem from key messages in your submission. Examples here include articles, white papers, blog posts, social media updates, case studies, videos, infographics etc.
Help to promote the awards as this will impress the organisers. Similarly, use social media hashtags which reference the awards – award organisers are likely to be monitoring this and will share/like or retweet your updates. This in turn will put you in front of a larger audience.
If the event is one where you need customers to vote, put together multiple campaigns to encourage customers, contacts, suppliers to vote on your behalf. Don't assume one campaign will be enough. In your communications, make the means of accessing the voting mechanism easy – eg share the link and signpost it regularly.  Encourage your whole team to publicise this in their interactions with people.
If you get through to final, don't forget to add 'Shortlisted for [name of awards]' to your website and email signatures. This will also help you to raise visibility and add kudos.
Making the most of the ceremony
Win or lose it is important that your team demonstrates utmost professionalism at the ceremony.  The event will shine the spotlight on your business and you should have a carefully planned strategy to make the most of this.  It's likely that there will be good networking opportunities, as well as publicity ones.  Have pre-prepared statements for different outcomes of the awards the result an plan who in your team will deliver the final one. Post social media updates during the course of the ceremony, if appropriate, but make sure these remain positive, appropriate and professional throughout the event.
Also ensure all your team are ready to make the most of the networking opportunities.  See if you can get a guest list in advance of the ceremony and divide up amongst your team relationship-building with target contacts (this also means carefully thinking which members of your team need to be there).  You may want to use the opportunity to invite key client or other contacts.  Whatever your approach, make sure your representatives are clear about the additional goals you're hoping to achieve from being at the event, and act accordingly.
Interest will be at its strongest in the days before, on the day and in the next 48 hours afterwards. It, therefore, helps to have pre-prepared your marketing publicity so you can make the most of this short window of time.  Even if you don't win you can make the most of being a runner-up.  Being a finalist still carries a positive message, especially if the awards receive many submissions.
And if you have been successful, do quickly make the most of your success.  Where possible incorporate the awards 'badge' on your corporate marketing assets (website, social media pages, stationery).  Issue press releases to your key sector press and tell customers, contacts and social media followers in communications to them.  In doing so, don't forget to thank those involved in submission – internally and externally.
Was it worth it?
Finally, given the time and effort that goes into award submissions, it is important to measure whether this represents a good business investment for your organisation.  Measure the impact of your involvement in an award event over the following 12 months. What has it enabled you to gain:
Greater media exposure?
Access to new customers and contacts?
Improvements in enquiries, sales, customer retention?
Improvements in staff recruitment and retention?
Measure these against your original objectives to gauge if participation in the awards has brought you the outcomes you wanted.  And if it has and is making a positive contribution to your business growth, consider what other accolades may also be worthwhile to pursue. Some awards are cyclical, others complement each other.  Having successfully nailed one award, you may find others are now in your grasp.
Summary
As we mentioned at the start of this two-part article series, awards can be a great way to shine the spotlight on your business, raise awareness and promote key products, services or messages.
Win or lose, simply being selected as a finalist often provides strong promotional opportunities in the build-up and around the award's announcement.  Not only can you gain greater kudos and credibility, but awards can also help you differentiate against competitors in a crowded market place. Also, in today's social proof era, awards can give a sizeable endorsement for your business and generate enquiries.
The key to gaining a good result from the business investment involved is to be very clear what you want to gain in pursuing a specific award.  If the potential can't be ignored, then devise a careful plan to make the most of every opportunity that event gives you. Also allow your team sufficient time to field a great submission.
If you would like help with an award submission, do get in touch.