How to get repeat referrals from clients and contacts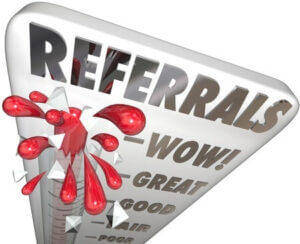 Most businesses count referrals as a great source of new work.  They often come with a lower cost of sale (as a valued contact or client has done the ice-breaking for you) and can have a higher conversion rate (the potential client trusts their contact's recommendation).
Over time, one client or contact referrer can bring many valuable new work opportunities to your business, but only if they feel its worth recommending you.
Repeat referrals checklist
So to ensure one recommendation does indeed turn into many over the coming months and years, follow our simple checklist.
Respond quickly to the referral – both to the potential client that's been recommended and also to your referrer contact, so they know you are putting things into action.
Keep them in the loop and informed as the sales process pans out and, if you're successful, the client's project or order. Your referrer contact may be able to give you additional insight which will help you convert the opportunity. If you keep them in the dark, they may assume you're not interested or (worse still) letting the potential client down.
Do an exceptional job with the client's order/project.  If your output is poor, the client will be disappointed and so will your referrer whose reputation and judgement will be thrown into question. So prioritise referred work wherever possible so it progresses smoothly, quickly and delivers a positive experience. Do what you say you're going to do, by the time you said you would and in the budget that was agreed. In preparation for the work find out what the client's expectations are in terms of timescales, communication points and key outputs to ensure you avoid incurring any disappointment.
Focus on the client's specific requirements and brief and don't be too hasty to try and sniff around or bid for other work before you've proven yourself. The client will want to check you're capable of doing a good job first.  Wait till you've successfully completed the project/order/ assignment etc and proven your company's capabilities before proposing other ways in which you can help.
Respect your referrer's relationship with your client and never try and undermine it.
Along the way, gain feedback from the client and the referrer to find out how you're doing. Wherever possible try to act on their suggestions to show your genuine interest in doing a good job and developing the relationship.
Thank the referrer – both right at the start when they introduce the potential client to you and also at the end when the work's been completed. It may be appropriate to send them something by way of a thank you. This largely depends on your contact and what they would appreciate.
Summary
Referrals and recommendations have become a well-established part of the buying process, as people become overwhelmed with choice and want to minimise any potential risk or failure in their selection of a supplier.  To put yourself in the spotlight for referrals from your clients and contacts you need to have built goodwill with them (ideally, by having supported them already in some way and helped with their business goals or objectives).
Always remember that your contact's reputation is in question when they recommend someone to you and you should take care to not damage it any way. If you are not getting repeat recommendations it's likely down to one of 4 reasons:
Your contact doesn't know or feel you have the relevant expertise
They're worried you won't do a good job
They're not sure of the situations and needs that point to your company's products or services
You've let them down and they want to avoid that situation happening again
With 1 through to 3, you have a chance to change perceptions by educating them on the work you successfully deliver for clients and proving your worth by being responsive, keeping the communication going and doing a great job.