Stand-out marketing for this Autumn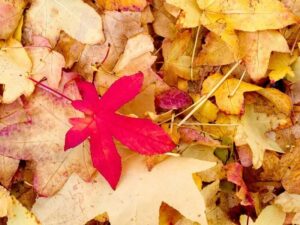 September is a popular time for planning marketing activity for the remaining third of the year.  2020 however, won't necessarily have the traditional promotions and activities given the new landscape that's emerged from the pandemic.
Some activities – such as physical events like conferences and trade shows are still very much on hold; others are less viable (such as cinema advertising) because of the drop in visitor numbers. Also, B2B direct mail is a challenge as some businesses are not rushing back to reopen offices, and have got a positive taste for remote working.
Also, as the pandemic shifted most communications online and into digital formats, many people are complaining of information overload and even shorter attention spans on their devices.
So what marketing will resonate in the Autumn 2020 season?  Here are our thoughts and tips:
Personalised communications
Quality over quantity is more likely to get you noticed.  The more personalised communications feel to the recipient, the more they'll engage with them.  Create highly targeted communications (such as email, direct mail, ads) to small niches of customers or customer profiles that reflect their preferences and interests and tailor promotions to them.
Price promotions
The challenging economy means cost-cutting and economising will be on many agendas.  Price-related promotions and discounts are likely to be a big feature of campaigns this year, as companies vie to poach customers away from their competitors.  For those unable to discount heavily, it will be important that added value wrapped around a product/service will still impress.
Solutions to immediate pain points – think reactive rather than strategic
A side effect of the uncertainty around and the economic downturn is that customers are likely to park bigger purchases – the ones focused on the longer term or more strategic aims – and limit expenditure to just the essentials.  Marketing that highlights how you help the immediate pain points or challenges people and businesses are facing will be noted more.  Also, display a sensitivity to the difficulties people are facing after such an unprecedented year.
Short, punchy and visual
The digital information overload many complain about makes it tough to get marketing messages seen.  If your product or service is a complex one to promote, try and break down your descriptions and promotions into bite-sized chunks.  Go for short and punchy messages, rather than long descriptions.  Focus on the small steps you can help people with. In doing so, use visuals or short videos where possible instead of the written word.  Make the messaging clear not cryptic and relating to specific needs and issues your target audience is facing.
Tools, tips, insights
Another aspect of the uncertainty people are encountering is the desire to find ways forward and gain clarity in order to achieve a result.  Any tools, tips, guides, insights and factsheets your content marketing can share to help with a particular question, challenge or opportunity will be well received.  But in doing so remember the point about being short, punchy and visual if you want a good take up.
Woo word of mouth
One of the best promotional channels are your delighted customers.  With people trusting the opinion of a friend and family member more than other sources, it's important that your happy customers are singing your praises and forwarding fresh customers your way.  Consider 'recommend a friend' and other referral-stimulating initiatives this Autumn as an easier way to boost enquiries.  Also, encourage customers to review and leave testimonials on the key social proof channels for your business.
Online events
Many events have already migrated online this year.  Those that do well respect that people can only watch a screen for so long. This means sessions need to be shorter and highly interactive to avoid fatigue.  If you're running webinars, attending online conferences be prepared to adapt your approach to encourage people to sign up and stay tuned in.
Seasonal treats
With an eager desire to return to some form of normality, many people will take comfort from positive messaging and imagery associated traditionally with the Autumn season. Respect the socially distanced and different environment people now reside and work in, and use the colours and treats of the season to show your currency, relevance and positivity.
Loving your locality
Another thing to emerge from the lock-down was people re-familiarising themselves with their locality.  This is hopefully going to continue, so be sure to emphasise your presence in local searches for your products and services.  Make more of your Google My Business listing – sharing news and updates to show you're active and open.
Can we help?
If you would like other ideas about how to get your marketing noticed this Autumn, do get in touch.